WhatsApp Flows: New features to improve user experience
Last September 20, during its Meta Conversations 2023 event, Meta unveiled a series of exciting innovations aimed at boosting the efficiency of business interactions on its popular messaging service, WhatsApp.
As the world's largest mass messaging platform, WhatsApp plays a crucial role in business-to-customer communication. Its latest update, Flows, focuses on creating flexible forms for capturing personalized information, further facilitating the user experience and businesses' ability to provide efficient service.
This allows businesses to guide users through a variety of actions and transactions seamlessly and easily. Whether it's purchasing a bus ticket, picking up a lead or managing appointments, WhatsApp now offers the flexibility to adapt to a variety of business needs and processes.
These customizable forms capture and consolidate information, which means it is available for submission via integration to the company's CRM or ERP systems. This level of detail is critical to ensure that customers then receive the information, support or process output they need quickly and accurately.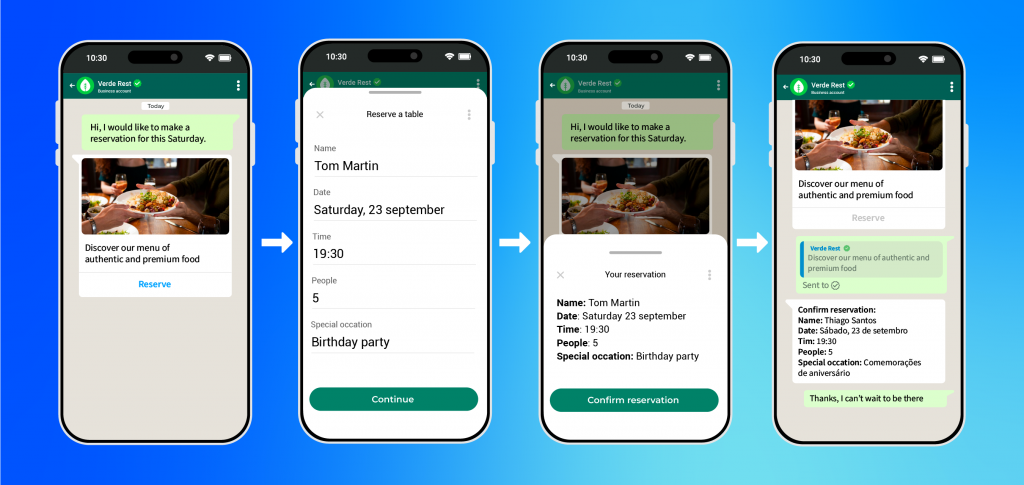 In addition to scheduling or lead forms, this update also allows companies to incorporate login forms, surveys and a wide variety of additional options. This opens up a world of possibilities for improving the customer experience, as companies can collect valuable feedback, gain insight into user preferences and streamline processes such as registration
Flows can be integrated with our conversational commerce solutions:
Social CX: Development of more robust agent request or post-care surveys.
Bot Manager: To expedite the scheduling of a restaurant, medical evaluation or legal advice.
Reach & Engage: To proactively send a lead capture promotion or newsletter subscription.
OneCommerce: To deliver details in the contracting of a service that requires selection variables.
It is important to note that although this exciting feature is already available initially in Brazil and Singapore, Meta plans to expand globally from October this year through the WhatsApp Business Platform.
This update promises to facilitate the delivery of services and products more efficiently, improve customer satisfaction and provide companies with a wider range of tools to enrich the user experience.
Stay tuned for Meta updates and onboarding with our solutions to take full advantage of these exciting new features. Drop us a line at info@onemarketer.net and let's chat.